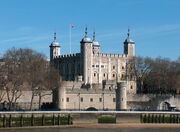 Her Majesty's Royal Palace and Fortress
, more commonly known as the
Tower of London
(and historically as The Tower), is a historic fortress and scheduled monument in central
London
,
England
, on the north bank of the River Thames. It is located within the London Borough of Tower Hamlets and is separated from the eastern edge of the City of London by the open space known as Tower Hill. It is the oldest building used by the British government.
Tower of London in 1632Edit
The United States of Europe's embassy to England was immediately placed in the Tower of London under house arrest on the orders of King Charles. They were soon joined a number of Yeomen Warders and their families who ran afoul of Charles, who'd obtained history books from Grantville. Those who were destined to overthrow Charles in the English Civil War were also interred, most notably Oliver Cromwell, who was contacted by the embassy via a smuggled radio.
In 1633, after Richard Boyle became Prime Minister, Thomas Wentworth, his family, and his close affiliates such as William Laud were also imprisoned in the Tower, which was oversee by its Constable Sir Francis Windebank.
In 1634, USE Secret Service and Army Captain Harry Lefferts led a mission to rescue the embassy. Parts of the tower were damaged by the team's dynamite, though most death-dealing was done by the marksmanship of Julie Mackay, who'd rendezvoused with Leffert's unit. All told, about fifty individuals (including the Yeomen Warders, Wentworth, and their respective families) escaped the Tower down the Thames River on a barge and one boat. To sow confusion and lead a false trail, Leffert's team also blew up repairable -- and uninhabited -- parts of London Bridge and burned the Globe Theatre.