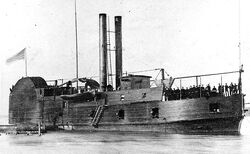 A
timberclad warship
is a kind of mid-19th century river gunboat. They were based upon a similar design as
ironclad
warships, but had timber armor in place of iron.
Timberclad warship in 1632Edit
When the first ships of the USE Navy were being built, three timberclad warships were built alongside the ironclads. The timberclads were steam-powered, and driven by side-mounted paddlewheels. They were armored with 48-inch wooden bulwarks that were proof against 17th century guns at ranges beyond 60-70 yards. However, the armor over the paddlewheels and on their undersides was lighter, so they were potentially vulnerable to hits on the paddlewheels, and definitely vulnerable to mines.
They carried less total firepower than the ironclads, but had six carronades apiece instead of the ironclads' three.
Construction of timberclads continued throughout the Ostend War, and the USE Navy had an additional five by May 1634.
References
Edit
1634: The Baltic War. Chs. 36, 52, and 61 for the description of the original ships, chs. 46 and 66 for additional ships being built.