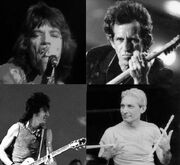 The Rolling Stones
are an English rock band formed in April 1962 by guitarist and harmonica player Brian Jones, pianist Ian Stewart, vocalist Mick Jagger and guitarist Keith Richards. Bassist Bill Wyman and drummer Charlie Watts completed the early lineup. Rhythm and blues cover songs dominated their early material, the Rolling Stones are credited for raising the international regard for the earlier styles of blues typified by Chess Records' artists such as Muddy Waters who wrote "Rollin' Stone", the song after which the band is named. Unconcerned with being seen as authentic blues stylists, from the start the Rolling Stones have played rock and roll, and have written and recorded in many genres.
The Rolling Stones in 1632Edit
The Rolling Stones were among Harry Lefferts's (a Classic Rock enthusiast) favorite rock bands.
During the Battle of the Wartburg, Lefferts played Rolling Stones songs as part of a campaign of psychological warfare against the Spanish forces inside the castle. Songs included Sympathy for the Devil, Satisfaction and Street Fighting Man in that order.