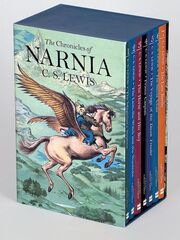 The Chronicles of Narnia is a series of seven fantasy novels for children written by C. S. Lewis. The Chronicles of Narnia present the adventures of children who play central roles in the unfolding history of the fictional realm of Narnia, a place where animals talk, magic is common, and good battles evil. Each of the books (with the exception of The Horse and His Boy) features as its protagonists children from our world who are magically transported to Narnia, where they are called upon to help the Lion Aslan save Narnia.
The Chronicles of Narnia in 1632Edit
The very young Kristina was introduced to The Chronicles of Narnia and quickly became a very keen fan of the series, The Lion, the Witch and the Wardrobe in particular.
After the USE victory at the Battle of Ahrensbök, Gustavus Adolphus renamed the German village Nutschel (where Charles de Valois was captured) to Narnia in honor of the great victory; as well to capitulate to his daughter. Copies of the books were later provided to the village for free to stop any confusion over the name change.