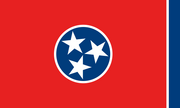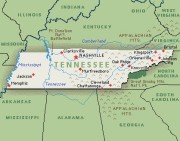 Tennessee
is a state located in the Southeastern
United States
. Tennessee is bordered by
Kentucky
and
Virginia
to the north,
North Carolina
to the east,
Georgia
,
Alabama
, and
Mississippi
to the south, and
Arkansas
and
Missouri
to the west.
Tennessee became the 16th state in 1796.
Although he was not born in Tennessee, Andrew Jackson identified himself a resident of the state as an adult. His political career was soon closely associated with the state.
Ad blocker interference detected!
Wikia is a free-to-use site that makes money from advertising. We have a modified experience for viewers using ad blockers

Wikia is not accessible if you've made further modifications. Remove the custom ad blocker rule(s) and the page will load as expected.