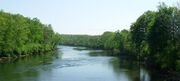 The Tallapoosa River runs from the southern end of the Appalachian Mountains in Georgia southward and westward into Alabama. It is formed by the confluence of McClendon Creek and Mud Creek in Georgia. The Tallapoosa joins the Coosa River about 10 miles to form the Alabama River.
The Tallapoosa River was the site of the Battle of the Horseshoe Bend in 1814. As part of an attack on a Red Stick position, Cherokee warriors led by The Ridge crossed the river, and launched a rear diversionary attack.
Ad blocker interference detected!
Wikia is a free-to-use site that makes money from advertising. We have a modified experience for viewers using ad blockers

Wikia is not accessible if you've made further modifications. Remove the custom ad blocker rule(s) and the page will load as expected.