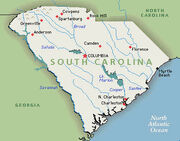 South Carolina
is a southern
U.S.
state that borders
Georgia
to the south and
North Carolina
to the north. Originally part of the Province of Carolina, the Province of South Carolina was one of the 13 colonies that declared independence from
Britain
during the
American Revolution
. South Carolina was the first state to vote to secede from the Union and was the founding state of the
Confederate States of America
, which in turn triggered the
American Civil War
. South Carolina contains 46 counties and its capital is
Columbia
.
South Carolina was the home of John C. Calhoun, Senator, and two-time Secretary of War. In the 1824 presidential election, South Carolina initially went to Calhoun, who turn delivered the state to Henry Clay when the election went to the House of Representatives.
Ad blocker interference detected!
Wikia is a free-to-use site that makes money from advertising. We have a modified experience for viewers using ad blockers

Wikia is not accessible if you've made further modifications. Remove the custom ad blocker rule(s) and the page will load as expected.