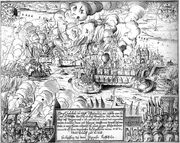 The Sack of Magdeburg refers to the siege and subsequent plundering of Magdeburg by the army of the Holy Roman Empire during the Thirty Years' War. The siege lasted from November 1630 until 20 May 1631 .
On the latter date, Imperial Field Marshal Gottfried Heinrich Graf zu Pappenheim, and Johann Tserclaes, Count of Tilly, attacked Magdeburg for its rich stores of goods. When the city was almost lost, the garrison mined various places and set others on fire. After the city fell the Imperial soldiers went out of control and started to massacre the inhabitants and set fire to the city. Of the 30,000 citizens, only 5,000 survived. For fourteen days, charred bodies were carried to the Elbe River to be dumped to prevent disease.
At the time of the Peace of Westphalia ending the war in 1648, the city's population had further dropped so that only 450 people were still living in the city.
Sack of Magdeburg in 1632Edit
The Sack of Magdeburg had taken place less than a week before Grantville's appearance in 1631[1], and was still fresh in the minds of German refugees and other Europeans.
Even as late as 1636, residents of Magdeburg remained bitter about the sack, and Pappenheim's name was reviled in the city.[2]
References
Edit
↑ 1636: The Devil's Opera, references throughout
Ad blocker interference detected!
Wikia is a free-to-use site that makes money from advertising. We have a modified experience for viewers using ad blockers

Wikia is not accessible if you've made further modifications. Remove the custom ad blocker rule(s) and the page will load as expected.