Nuremberg (German: Nürnberg) is a city in the German state of Bavaria, in the administrative region of Middle Franconia. It is situated on the Pegnitz river and the Rhine–Main–Danube Canal and is Franconia's largest city. It is located about 170 kilometres north of Munich.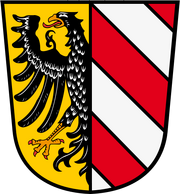 Gustavus Adolphus took Nürnberg in July, 1632 in advance of the combined forces of Albrecht von Wallenstein, Gottried Pappenheim, and Elector Maximilian. It was here that Gustavus realized that Bernard of Saxe-Weimar had switched sides.
While laying siege to the town, Wallenstein received a letter from Cardinal Richelieu calling for a Croat attack on Grantville.
Since Nürnberg was Lutheran, it was not included in the New United States' administration of Franconia. As of 1636, Nürnberg remained an independent city-state, surrounded by and generally friendly to the United States of Europe, but not part of it.[1] Even so, anyone planning movements of USE forces in the area had to consider the possibility that Nürnberg would not allow them to go through its territory, which would add a few days to their travel time.
Some maps use the same color for Nürnberg's territory and that of the USE, though most surround it with the thicker lines used to signify national borders.
The reasons for Nürnberg's continued independence are not given, even as speculation. The city's independence is simply presented as an accepted fact.
References
Edit
↑ 1636: The Saxon Uprising, ch. 21