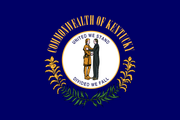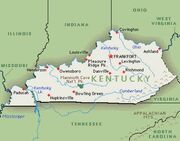 Kentucky is a state located in the East Central United States, normally included in the group of Southern states, but sometimes partially included, geographically and culturally, in the Midwest. Kentucky is one of four U.S. states established as a commonwealth. Originally a part of Virginia, in 1792 it became the 15th state to join the Union.
Kentucky was the home of Henry Clay, the sixth President of the United States.
Ironically, Clay was not able to carry Kentucky in the 1824 presidential election; Kentucky instead went to Andrew Jackson. Clay didn't particularly care, as he won the election regardless.
Ad blocker interference detected!
Wikia is a free-to-use site that makes money from advertising. We have a modified experience for viewers using ad blockers

Wikia is not accessible if you've made further modifications. Remove the custom ad blocker rule(s) and the page will load as expected.