Grantville High School was the sole high school of Grantville, West Virginia. After the Ring of Fire deposited the town in Thuringia, the high school was the largest and best equipped facility for handling large numbers of people. Its gymnasium was used for larger assemblies of all kinds, including the Emergency Town Meeting three days after the Ring of Fire. Many of its rooms and facilities were co-opted by the Grantville Emergency Committee, and many services, such as the dispensary and library, and a resettlement/refugee center, were provided in addition to normal education—which resumed normally a few days after the ROF. Under the press of the inflow of refugees, many night courses and fuller use of the facilities came about.
Most of the movers and shakers of the future United States of Europe were attending Tom and Rita Simpson's wedding reception at the high school when the Ring of Fire happened.
While the school's formal name is "Calvert High School", that name is not often used.
Literary Comment
Edit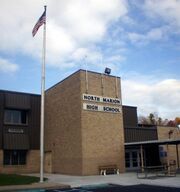 The physical plant of the High School is faithful to the physical plant of the North Marion High School (see photo) in Mannington, West Virginia, the town Grantville and its resources are based upon
External links
Edit
Ad blocker interference detected!
Wikia is a free-to-use site that makes money from advertising. We have a modified experience for viewers using ad blockers

Wikia is not accessible if you've made further modifications. Remove the custom ad blocker rule(s) and the page will load as expected.