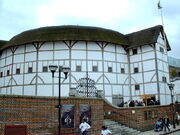 The Globe Theatre was a theatre in London associated with William Shakespeare. It was built in 1599 by Shakespeare's playing company, the Lord Chamberlain's Men, and was destroyed by fire on 29 June 1613. A second Globe Theatre was built on the same site by June 1614 and closed in 1642.
Alexander Mackay and Julie Sims visited the Globe Theatre while on the way to meet Harry Lefferts and his commando team in London in 1634. Julie was horrified to find that male actors also played female characters -- she had thought Alex was joking when he tried to warn her of that.
To Melissa Mailey's horror, the Globe Theatre (which was entirely deserted in the early morning) was fire-bombed by Harry Lefferts' commando team in order to sow confusion during their mission to rescue the Grantville embassy from the Tower of London.
Ad blocker interference detected!
Wikia is a free-to-use site that makes money from advertising. We have a modified experience for viewers using ad blockers

Wikia is not accessible if you've made further modifications. Remove the custom ad blocker rule(s) and the page will load as expected.