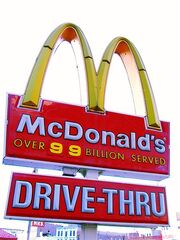 Freedom Arches was a new franchise establishment associated with the Committees of Correspondence and created by its leader Gretchen Richter. The Freedom Arches was created from the former McDonald's owned by Andrew Yost in Grantville, hence it received its name from the McDonald's golden arches. Thus the Freedom Arches were the 17th-century's equivalent of the famous bistros and coffee houses of the revolutionary Paris of a later era. Moving with their usual speed and energy, the Committees of Correspondence had begun creating other franchises patterned after it in every town in the New United States and beyond.
The buildings in which the new Freedom Arches sprang up were themselves 17th-century construction. But the two arches which prominently advertised them, even if they were painted wood instead of fancy modern construction, would have been recognized by any resident of the New United States in the America which had been left behind. In a huge contrast to the modern McDonald's on which it was based, the food served was more likely to be simple bread than anything else, with tea and beer for beverages instead of coffee. There would also be a crude printing press occupying a place of honor in the "dining area," with — almost round the clock — youngsters cheerfully cranking out leaflets and broadsides.
In Saxony, a Freedom Arches was erected just outside the boundaries of Leipzig much to the displeasure of John George, who had immediately complained to Gustavus Adolphus. But the king of Sweden, who was also the emperor of the then Confederated Principalities of Europe, had refused to direct its dismantling.