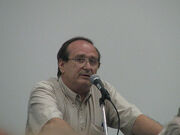 Eric Flint (born 1947) is an American alternate history and fantasy author, editor, and e-publisher. The majority of his main works are alternate history/science fiction, but he also writes humorous fantasy adventures.
Flint is the creator, principal author, keeper of the canon, and the Series Editor for the 1632 series. Flint keeps total control of the universe via the resources at 1632.org and the 1632 Editorial Board process. After the death of Jim Baen, Flint created the professional rate paying ezine grantvillegazette.com.
Bibliography
Edit
External links
Edit
Ad blocker interference detected!
Wikia is a free-to-use site that makes money from advertising. We have a modified experience for viewers using ad blockers

Wikia is not accessible if you've made further modifications. Remove the custom ad blocker rule(s) and the page will load as expected.