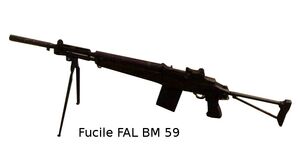 The
Beretta BM59
is an
Italian
-made rifle based on the M1 Garand rifle, modified to use a detachable magazine.
Joesph Modi owned a Beretta BM59 which he had bought for nostalgia's sake after looking through Shotgun News. He had also bought about a thousand rounds of ammo for the gun. After the Ring of Fire, knowing that he would eventually die from his diabetes, Joseph decided to leave the BM59 to his grandson Josh Modi, thinking that he might give it to Grantville's army. After Joseph's death, Josh kept the rifle. In July of 1631, he gave it to Louis de Geer as a gift, thinking that it might help him convince potential investors in their planned steel company that Grantville was real.
Ad blocker interference detected!
Wikia is a free-to-use site that makes money from advertising. We have a modified experience for viewers using ad blockers

Wikia is not accessible if you've made further modifications. Remove the custom ad blocker rule(s) and the page will load as expected.