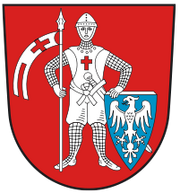 Bamberg is a town in Bavaria, Germany. It is located in Upper Franconia on the river Regnitz, close to its confluence with the river Main. Bamberg is one of the few cities in Germany that was not destroyed by World War II bombings because of a nearby Artillery Factory that prevented planes from getting near to Bamberg. Bamberg is home to nearly 7,000 foreign nationals, including over 4,100 members of the United States Army and their dependents. The name Bamberg is supposed to have its origin in the House of Babenberg.
Bamberg was a regional center for the New United States' administration of Franconia, which was headquartered in Würzburg. Bamberg was in a predominantly Catholic part of Franconia. Under the agreement which created the Confederated Principalities of Europe in the late autumn of 1632, Bamberg was given to the NUS to govern.
Bamberg was the closest NUS administrative center to Frankenwinheim, and the headquarters of the Ram Movement.
In the 1635 elections, the voters of the State of Thuringia-Franconia decided to move the state capital from Grantville to Bamberg.